SAF-HOLLAND
Spare parts
[09.2012]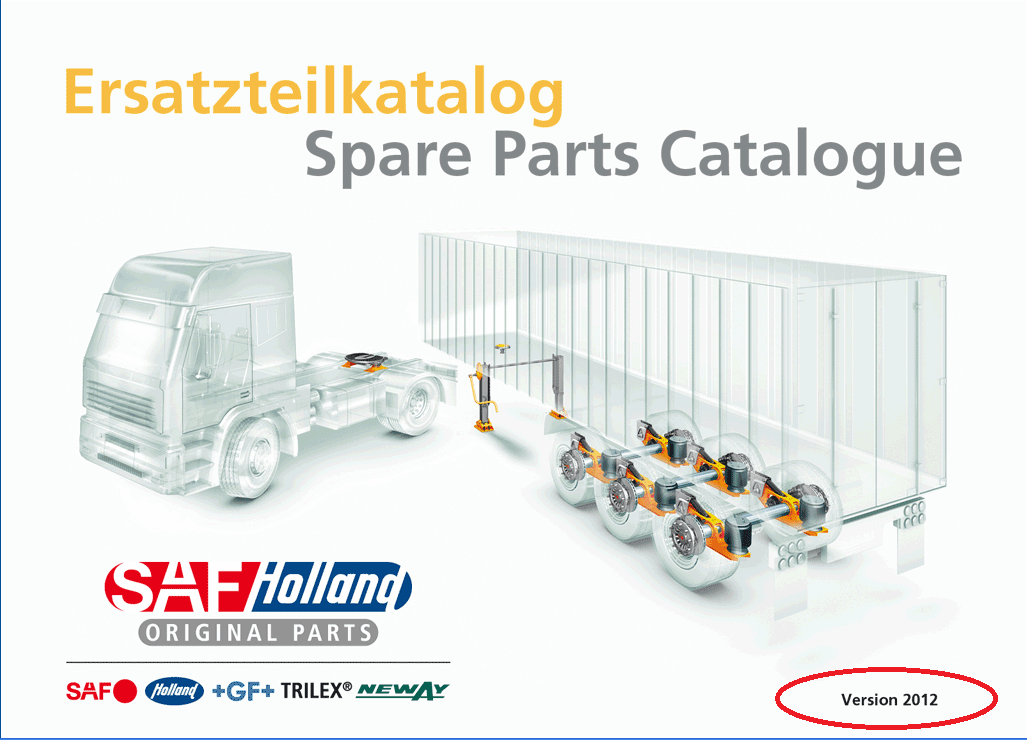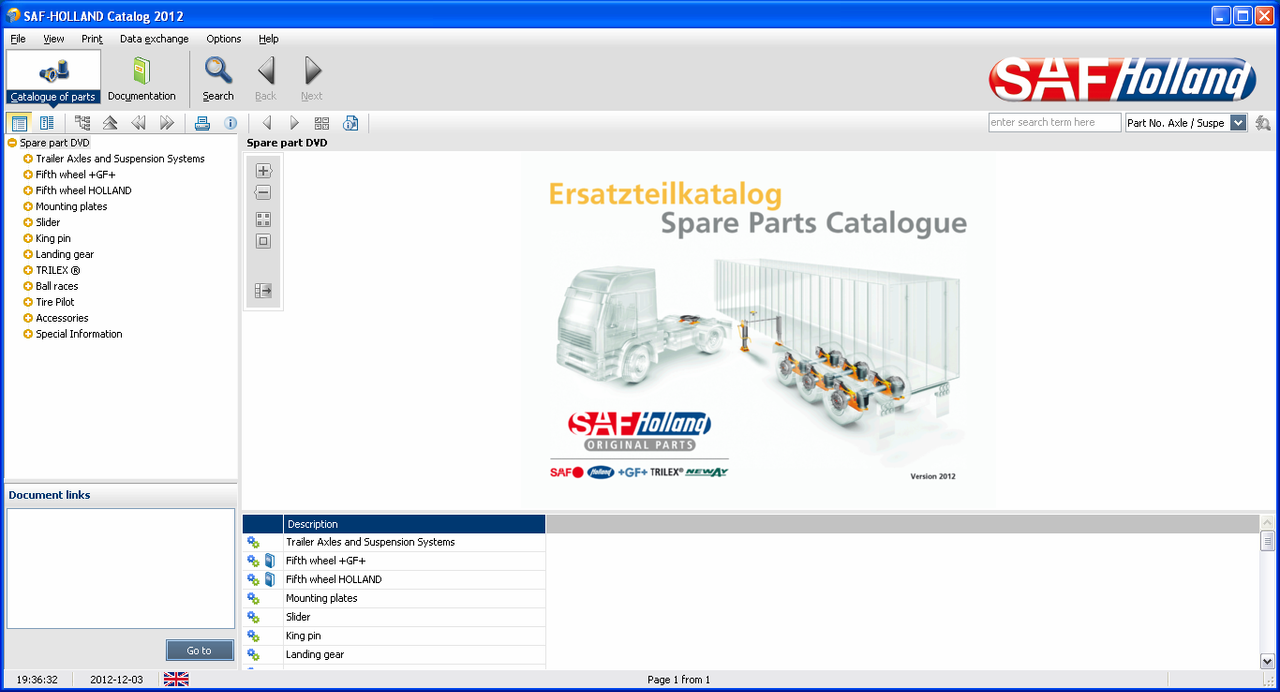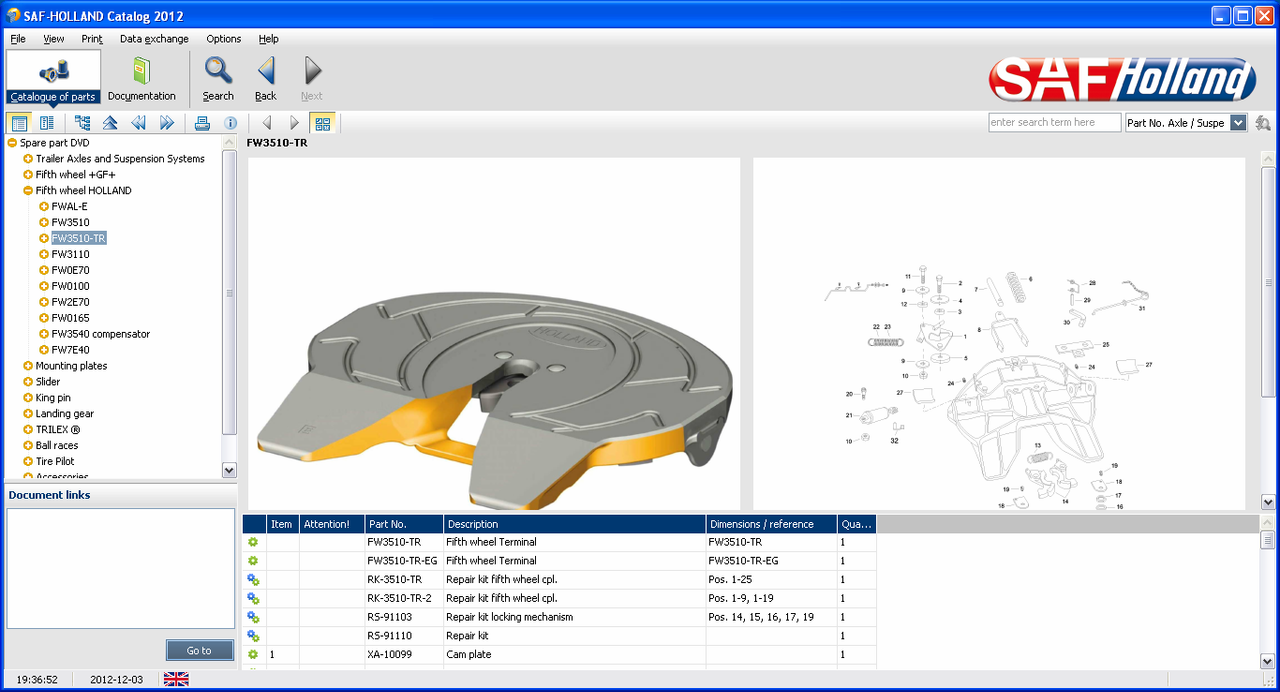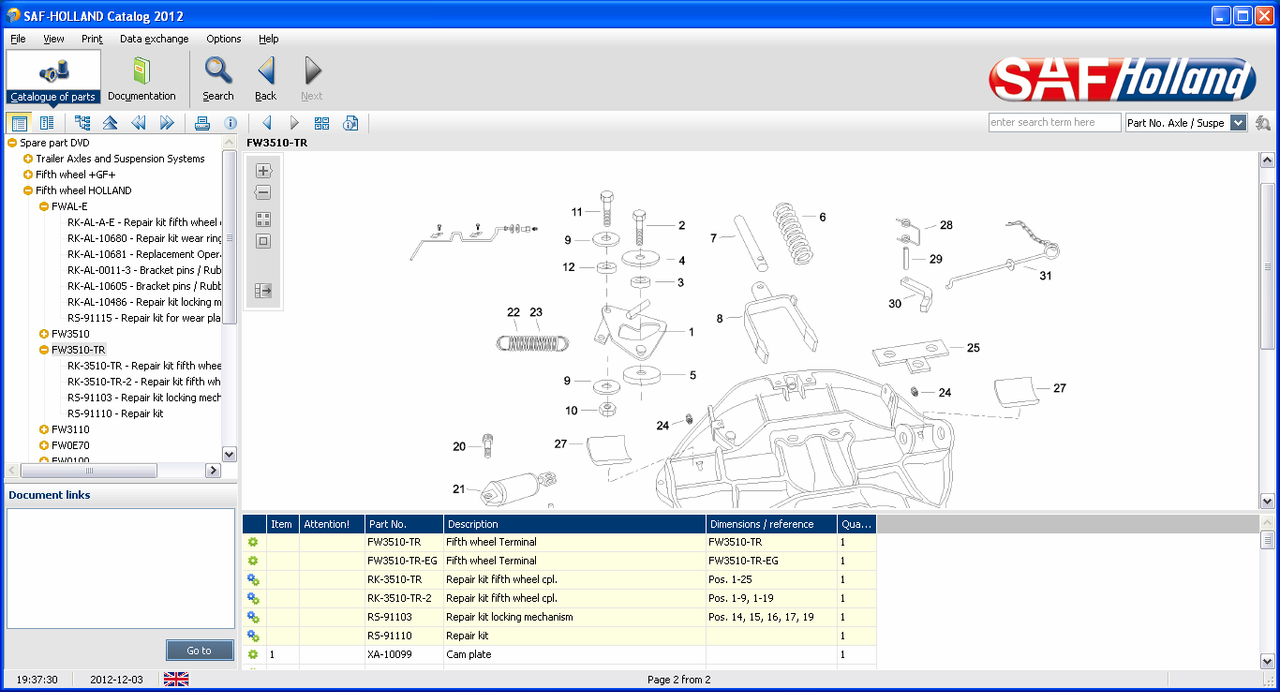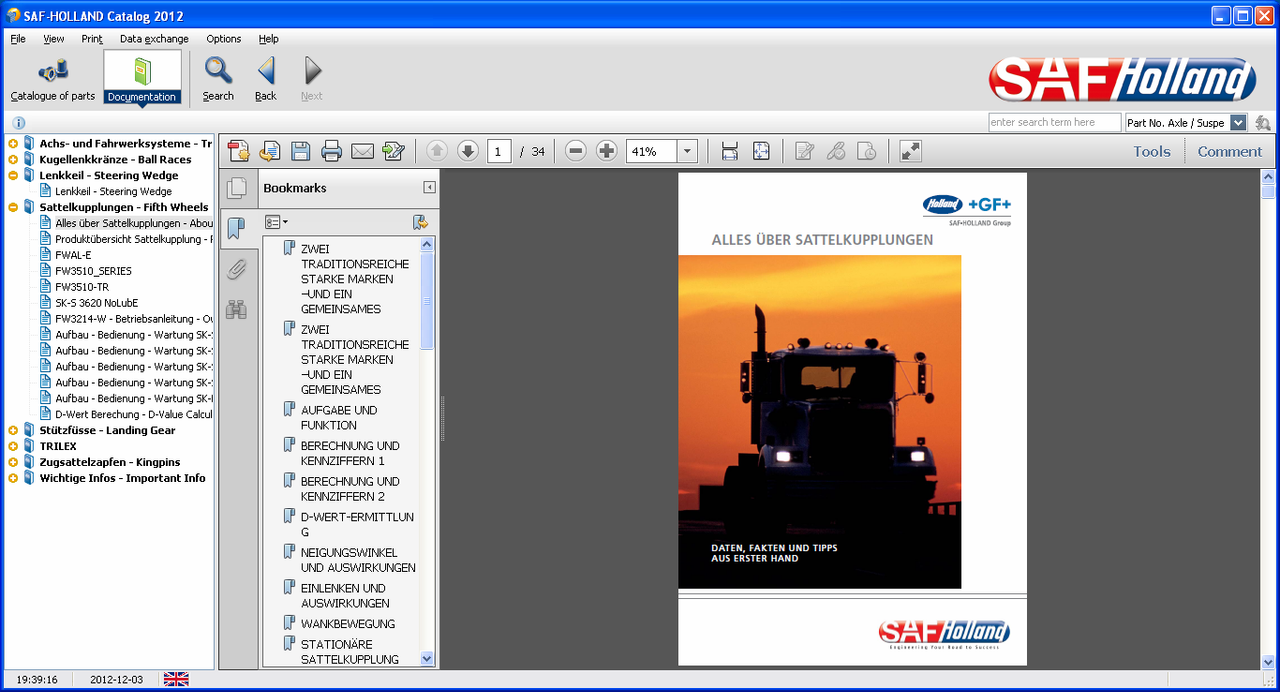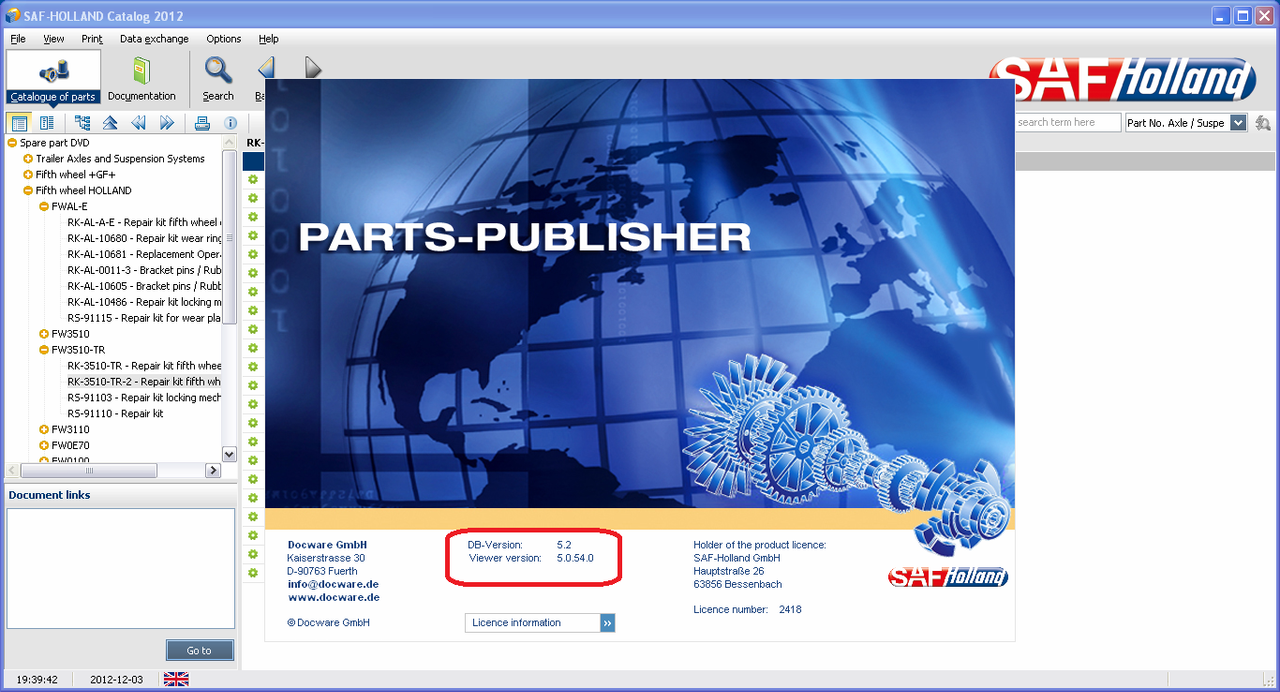 Region: All regions
Languages: English, Hungarian, Dutch, Danish, Spanish, Italian, Chinese, German, Dutch, Norwegian, Polish, Russian, Turkish, French, Czech, Swedish, Japanese
OS: WinXP, WIN7
Quantity of CD: 1 CD
Year: 2012
Date of update: 09/2012
The original spare parts catalog SAF contains the catalogue of details of known German firm "Achsenfabrik Otto Sauer", specializing on manufacturing of axes for trailers and to a floor-trailers. In the program the full information on axes of this firm, including brakes, a suspension bracket and an electric equipment is presented.
The original spare parts catalog SAF is very simple in installation and work, English, German, Spanish, French works without CD, languages.
The spare parts catalog SAF will be especially useful to those who is engaged in repair and service of trailers or trades in spare parts for them.
Saf Holland CD covers following SAF equipment:
SAF disc brake 9019-11222 INTEGRAL
SK RB 9019 K SN 6
SK RB 9019 KI (SN 6) INTEGRAL
SK RB 9019 W
SK RB 9019 WI INTEGRAL
SK RB 9022 K (SN 7)
SK RB 9022 K 01 (SK 7)
SK RB 9022 KI (SN 7) INTEGRAL
SK RB 9022 KI 01 (SK 7) INTEGRAL
SK RB 9022 H (MK II/III)
SK RB 9022 H (MK IV)
SK RB 9022 H (Modul X)
SK RB 9022 W
SK RB 9022 WI INTEGRAL
SK RS 9019 K (SN 6)
SK RS 9019 W
SK RS 11019 K (SN 6)
SK RS 11019 W
SK RS 9022 K (SN 7)
SK RS 9022 H (MK IV)
SK RS 9022 W
SK RS 11222 K (SN 7)
SK RS 11222 K 01 (SK 7)
SK RS 11222 W
SK RZ 9019 K (SN 6)
SK RZ 9019 W
SK RZ 11019 K (SN 6)
SK RZ 11019 W
SK RZ 9022 K (SN 7)
SK RZ 9022 W
SK RZ 11222 K (SN 7)
SK RZ 11222 K 01 (SK 7)
SK RZ 11222 Ws
SAF-disc brake axle generation 06
B9-19K
B9-19W
B9-22K01
B9-22W
BA9-22K01
BI9-22K01
BI9-22W-6
BI9-22W
SI9-19K
SI9-19W
SI9-22W
SI9-22K01
SI11-19K
SI11-22W
SI11-22K01
ZI9-19K
ZI9-22K01
ZI11-19K
ZI11-22K01
SAF-Trailer axles SK 500, 9042 INTRAAX, 9030-11242
KRS 12242
KRS 12242/18
KRS 14242
KRZ 14242
KRZ 16242
KRZT 14242 TRILEX
KRZT 16242 TRILEX
SK RS 9030
SK RS 6537-8
SK RS 6537-10
SK RS 9037-8
SK RS 9037-10
SK RS 9042 / SK 1000
SK RS 9042/20
SK RS 9042 INTRAAX
SK RS 9042 SK 500
SK RS 9042 SK 500 plus
SK RS 11242
SK RS 12242
SK RZ 6530
SK RZ 9030
SK RZ 11030
SK RZ 12030
SK RZ 9037-8
SK RZ 9037-10
SK RZ 11037-8
SK RZ 11037-10
SK RZ 12037
SK RZ 9042
SK RZ 9042/20
SK RZ 11242
SK RZ 12242
SK RZT 12242
SAF-drum brake axle generation 06
S7-3015
S9-3718
S9-4218
S9-4220
S11-3720
S11-4218
S11-4220
Z7-3015
Z8-3718
Z9-3020
Z9-3720
Z9-4218
Z9-4220
Z11-3020
Z11-3720
Z11-4218
Z11-4220
SAF-Trailer axles 6242-16242
RBM 8442
RBM 8442/12
RSM 6242/12-8
RSM 6242/12-10
RSM 6542
RSM 8442
RSM 8442-8
RSM 9042
RSM 9042/20
RSM 11242
RZM 8442
RZM 8442-8
RZM 11242
RZM 12242
RZM 14242
RZM 16242
RZT 14242
RZT 16242
WRZM 6242
WRZM 6242-8
WRZM 8442
WRZM 8442-8
WRZM 11242
SAF-Trailer axles 4535-11035
EBN 4535
EBN 5535
WRZM 8435-8
WRZM 8435-10
WRZM 11035-8
WRZM 11035-10
SAF-Trailer axles EBN/ESN 3140-5542
EBN 3140
EBN 3140-6
EBN 4040
EBN 4540
EBN 4540-6
EBN 4540-10
ESN 4040
ESN 4540
ESN 5542
SAF-Low loader axles 3130-13130
EBN 3130/12"
EBN 4530
ES 5030
ESN 4030
ESN 5030
ESN 6030
EZN 4030
EZN 4030/12"
EZN 5030
EZN 6030
RS 5030
RZM 11030
RZM 13130
WESN 5030
WESN 6030
WEZN 5030
WEZN 6030
WEZN 6030/12"
WRZM 8130
WRZM 11030
SAF-SK Steering axles 9019/9022
SK RLB 9019
SK RLB 9019 IO/IU
SK RLB 9022
SK RLB 9022 IO/IU
SAF-Steering axle with disc brake generation 06
BINL9-22K01
SAF-SK Steering axles 9030-11242
SK RLS 9037
SK RLS 9042
SK RLS 9042/20
SK RLS 11242
SK RLZ 9030
SK RLZ 11030
SK RLZ 9037
SK RLZ 11037
SK ZRLZ 11030
SK ZRLZ 12030
SAF-Steering axle with drum brake generation 06
SL9-3718
SL9-4218
SL11-4220
SZL11-4218
SZL11-4220
ZL8-3718
ZL9-3020
ZL9-3720
ZL11-3020
ZL11-3720
ZL11-4220
SAF-Steering axles 8130-11242
RLBM 8442
RLSM 8442
RLSM 9042
RLSM 9042/20
RLSM 11242
WRLZM 8130
WRLZM 11030
WRLZM 8435-8
WRLZM 8435-10
WRLZM 11035-8
WRLZM 11035-10
WZRLZM 8130
WZRLZM 11030
SAF-air suspension INTRAAX, INTRADISC PLUS
INTRAAX "XO"
INTRAAX "XU"
INTRADISC PLUS "PO"
INTRADISC PLUS "PU"
INTRADISC PLUS "IO"
INTRADISC PLUS "IU"
INTRADISC PLUS MEGA "IU"
INTRADISC EVOLUTION "VU"
INTRADISC EVOLUTION "VO"
SAF air suspension - modular system
M
O
U
Basic
SAF-Air suspension 411-421
AR 411 / EM 411
AR 411H / EM 411H
AR 411E / EM 411E
AR 411EH / EM 411EH
AR 413
AR 413 H
AR 414 / EO 414
AR 414H / EO 414H
AR 414E / EO 414E
AR 414EH / EO 414EH
AR 416 / EU 416
AR 416H / EU 416H
AR 416E / EU 416E
AR 416EH / EU 416EH
AR 418
AR 421
SAF-Air suspension 311-316
AR 311 EM 311
AR 311H / EM 311H
AR 311E / EM 311E
AR 311EH / EM 311EH
AR 313
AR 313 MIT LIFT
AR 314 / EO 314
AR 314H / EO 314H
AR 314E / EO 314E
AR 314EH / EO 314EH
AR 316 / EU 316
AR 316H / EU 316H
AR 316E / EU 316E
AR 316EH / EU 316EH
SAF-Air suspension 211-213
AR 211
AR 212
AR 213
SAF-Air suspension 112-113
AR 112
AR 113
SAF-Parabolic leaf spring suspensions
VDS 16
VDS 20
VDS 24
VDS 24 K
VDZ 16
VDZ 20
VLS 22
VLZ 30 T
VLZ 40 T
VRZ 20
VRZ 20
VRZ 20 T
SAF-Leaf spring suspensions
VDS 16
VDS 20
VDZ 16
VDZ 20
VRZ 28
VRZ 42
VRZ 48
SAF-Two spring tandems
I (E) RDZW (T) 24
I (E) RDZW (T) 28
I (E) RDZW (T) 32
IDDS 16
IDDZ 16
IDDZ 20
IDZWT 24
IDZWT 28
IDZWT 32
IRDZ 20
IRUDZ 20
IRUDZ 20
IRUDZ 24
IRUDZ 24
IRUDZ 28
IRUDZ 28
IRUDZ 32
Repair kit disc brake
SKRB 9019/9022
SKRLB/SKRLS (Z)
SKNLB/SKVLB/BINL9/BIVL9
INTRA IO/IU
9019/11019 W Brake SBW 1937 - PAN 19-1
9022/11222 W Brake SBW 2243 - PAN 22-1
9019/11019 K (SB 6) Brake SBK 1937-11 S (SB 6)
9019/11222 K (SB 7) Brake SBK 2243-11 S (SB 7)
9019/11019 K (SN 6) Brake SBK 1937-11 S (SN 6)
9022/11222 K (SN 7) Brake SBK 2243-11 S (SN 7)
9022/11222 K 01 (SK 7) Brake SBK 2243-11 S (SK 7)
9022/11222 H (MK II) Brake SBH 2243-11 S (MK II)
9022/11222 H Brake SBH 2243-11 S (MK II/III/IV)
9022/11222 H (MK III Brake SBH 2243-11 S (MK III)
9022/11222 H (MK IV) Brake SBH 2243-11 S (MK IV)
9022/11222H(MODUL X) Brake SBH 2243-11 S (Modul X)
Repair kit drum brake
Axle nut assembly
Kit autom. slack adjuster
Repairkit camshaft
Camshaft bearing assembly
Camshaft bearing repair kit
Brake repair kit
Grease change repair kit
Repair-Kit bearings
Steering arm repair kit
Spring bearing repair kit
Liftsystems
Two-side lift for INTRA-suspension series - steel hanger
Two-side lift for INTRA-suspension series - cross member
Two-side lift for INTRA-suspension series - Aluminium hanger
Axle lift
Pendulum lift
Guide arm left
Guide arm right
Guide arm without two-side lift
Guide arm with two-side lift
Guide arm with pos. 7 without lift
Guide arm with pos. 7 and lift
Guide arm without two-side lift
Guide arm with two-side lift
Charts
ABV/BOSCH
ABV/WABCO
Brake linings
Brake drums
Trailing arms
Slack adjusters
Autom. slack adjuster
Air bags
Air bag carrier
Camshafts SN300
Camshafts SNF420/SN355
Camshafts SNK 300
Camshafts SNK420/367
Camshafts SNK367/420
Camshafts SNK 420 for Intraax
Wheel bolt
Wheel bolts cpl./Twin wheels
Wheel bolts cpl./single wheels
Hub caps
Shock absorber
U-bolt
U-Stabilizers
Grease seals
Tools
Return springs
Brake chamber
Hubodometer

HOLLAND tools:
Fifth Wheels
FW3510
FW8010
FW17E
FW17EK
FW3110
ILS Slider
Fifth Wheel Heavy Duty
FW0E7
FW0100
FW2080
FW2E70
FW0165
Specialised Fifth Wheels
FW67-16B
FW3510-TR
FW3540 / FW3140 Kompensator
FW7E40
King Pin
type 63
type 65
type 66
type 67
Mounting Plates
weigthsaver Mounting Plate
Landing Legs
Landing Leg (BIGFOOT CLASSIC)
Landing Leg - Set (BIGFOOT CLASSIC)
Landing Leg - accessory (BIGFOOT CLASSIC)
Landing Leg - Repair Kits (BIGFOOT CLASSIC)