Fiat ECUScan 3.6.2
FULL
[07.2012]
+
FINAL Crack
Diagnostics software for Fiat & Alfa Romeo cars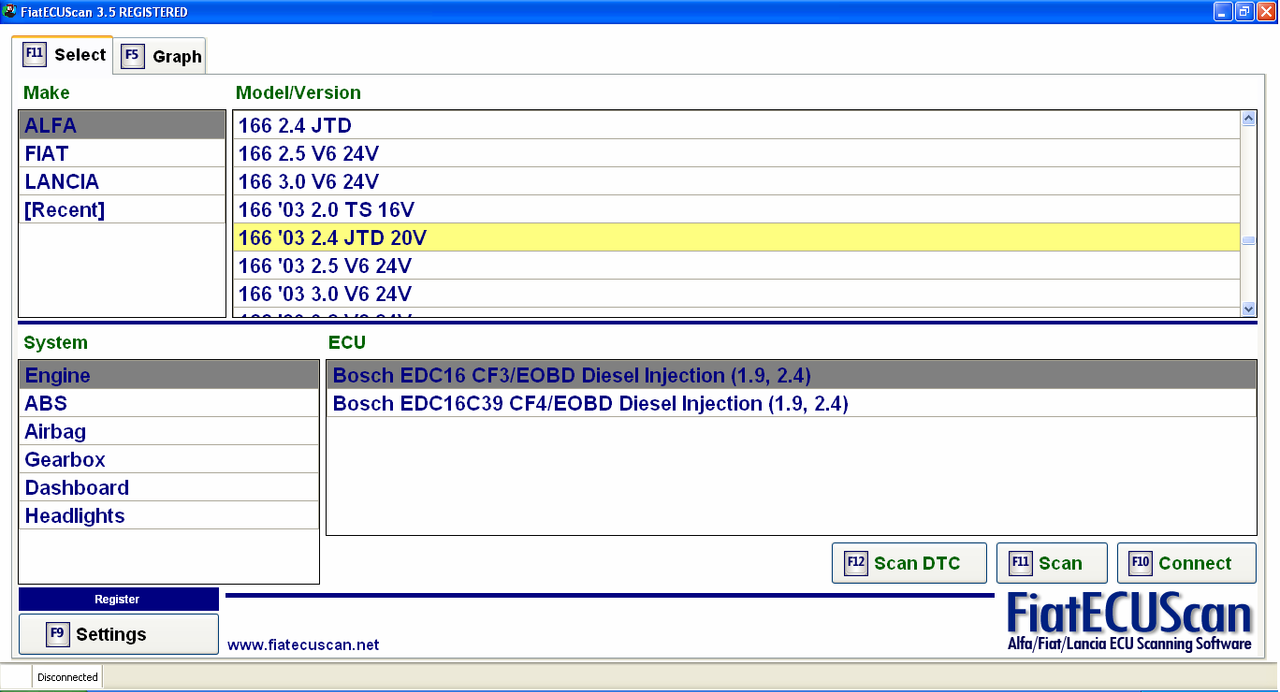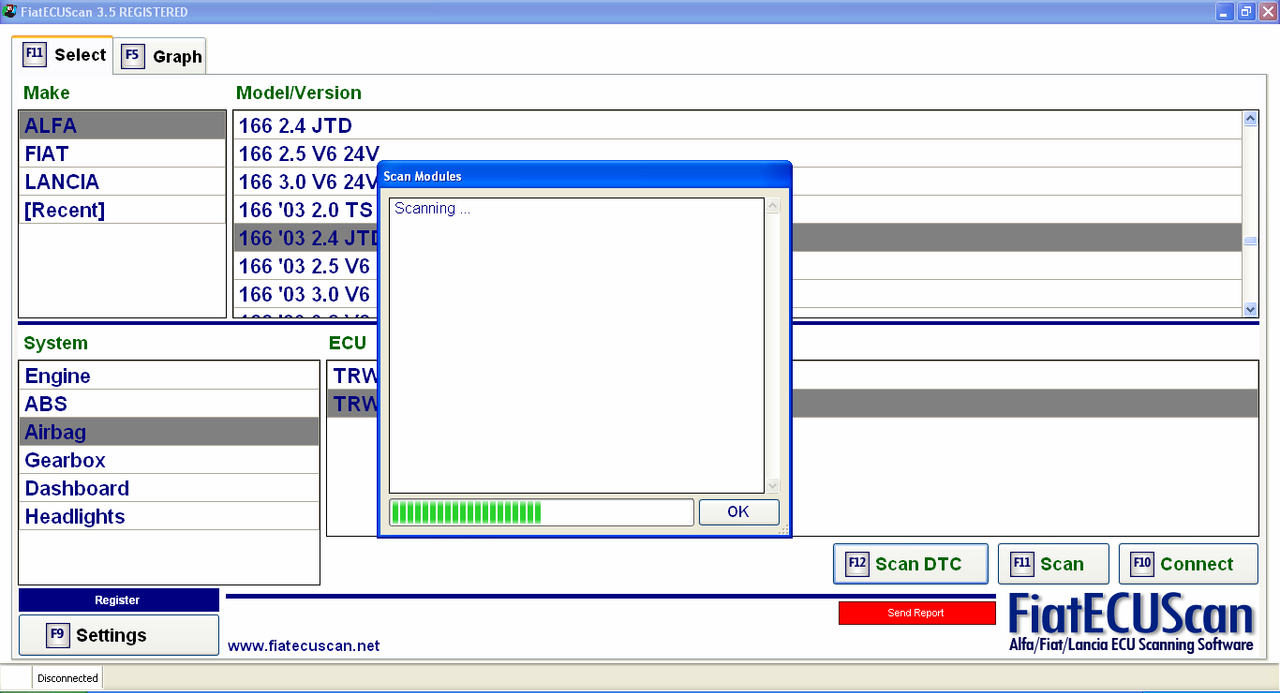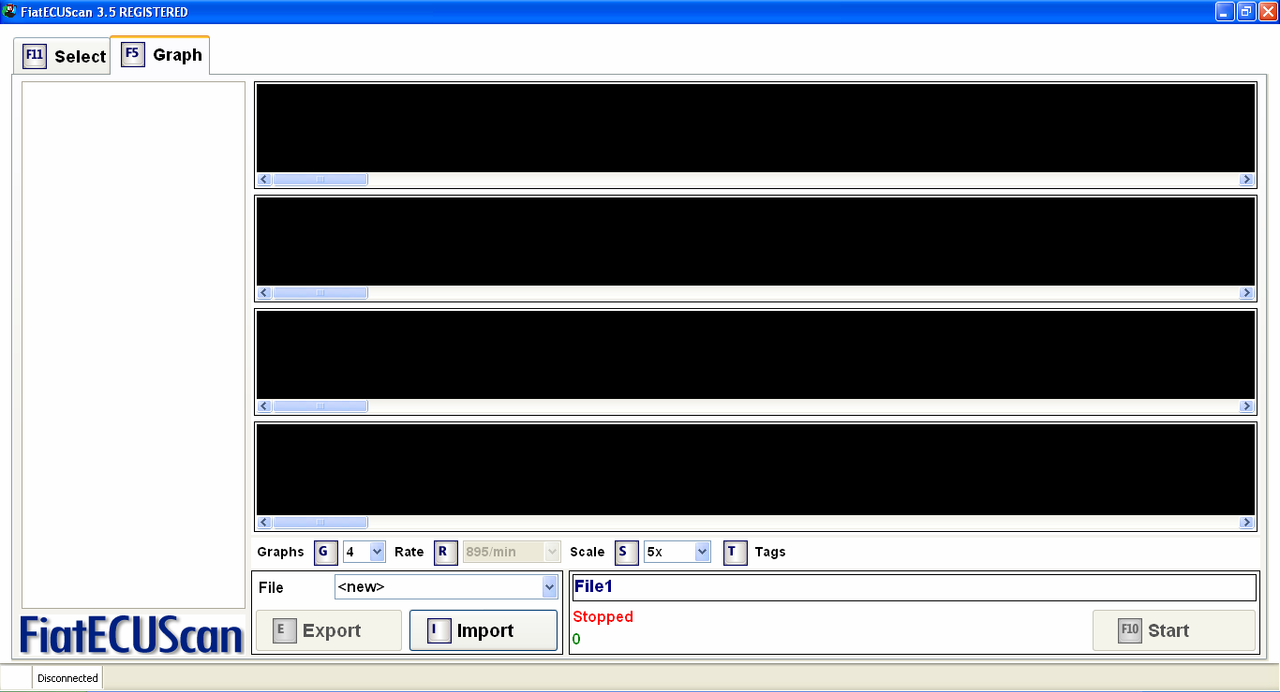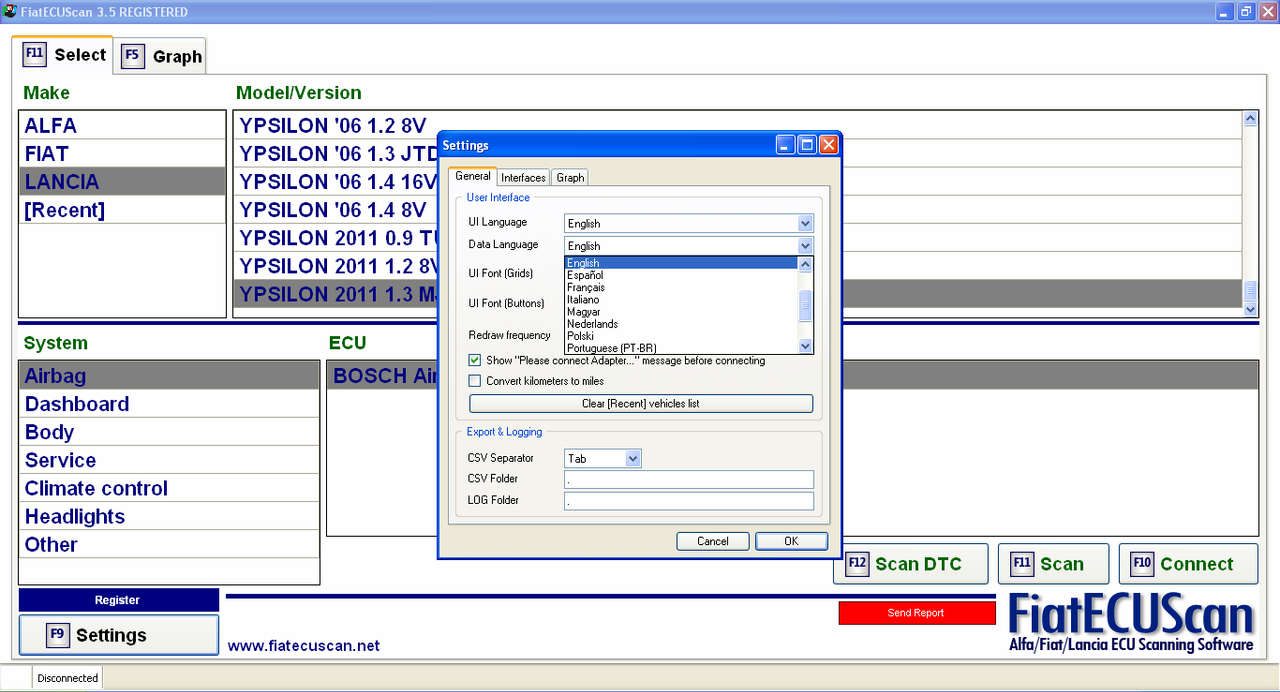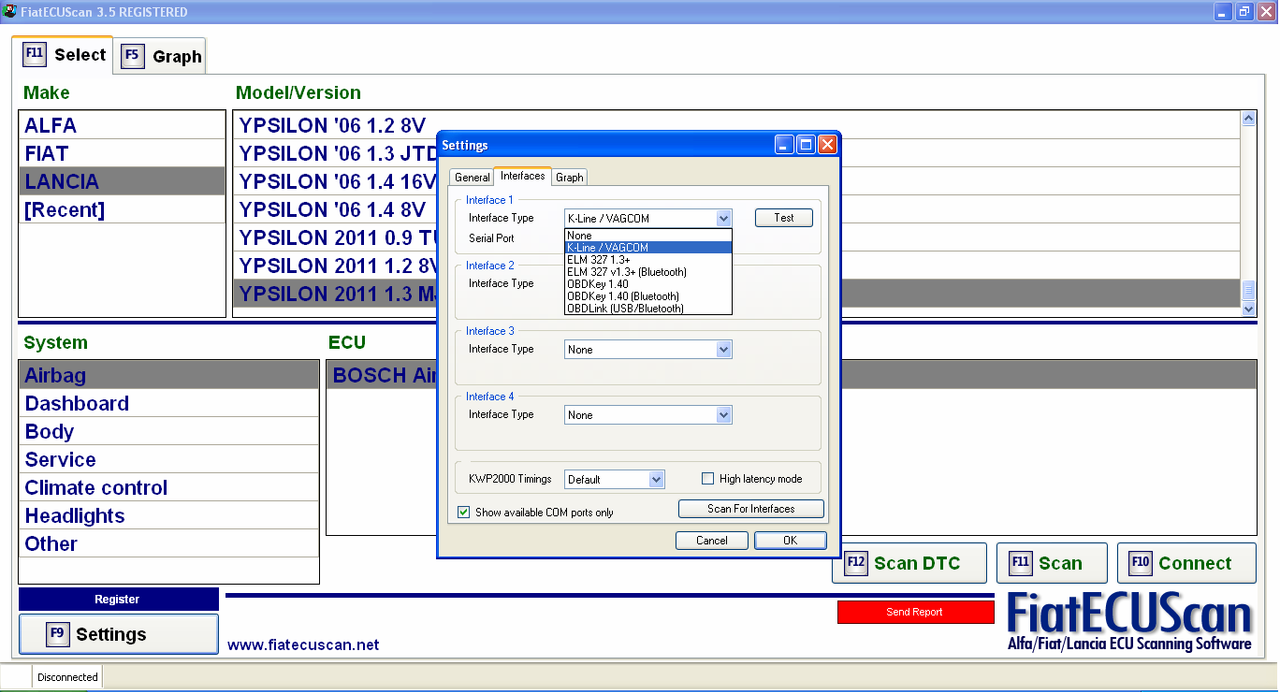 Region: All regions 
Languages: English, Hungarian, Dutch, Danish, Spanish, Italian, Mexican, German, Norwegian, Polish, Russian, Turkish, French, Czech, Swedish 
Type: Diagnostics software 
OS:WinALL
Quantity of CD: 1 CD 
Year: 2012
Date of update: 07/2012 
Fiat ECUScan
software for Fiat & Alfa Romeo cars
This diagnostics software allows you to perform various diagnostics of the supported modules. Diagnostics is performed via k-line (VagCom) or ELM 327 interface connection to the vehicle's OBD connector (which is located near steering wheel) or to a manufacturer-specific connector (for older, pre-2000 cars).
You need to have a k-line (VagCom), ELM 327 v1.3 (or later) or OBDKey v1.40 interface cable in order to use this program.
The FiatECUScan software package supports fault code reading (and clearing) and live sensor data from controllers such as Engine, Automatic Transmission, Airbag, ABS and Electric Power Steering.
Coverage includes 1999 onwards petrol and diesel models (cars must have a 16-pin diagnostic socket fitted to be compatible with this package)
Features available:
Fault code reading and clearing  
Live sensor reading display (numerical or graph format) 
Data Recording 
Actuator testing on supported modules 
Reset/Programming functions on supported modules 
Service Reminder Indicator reset on supported vehicles
What is included in the package:
FiatECUScan software licence key for full registered (commercial) version - including free updates for 12 months from the date of online activation.

Access to online support forums on FiatECUScan.net 
Software license supplied either by email, with software as a download, or software on CD by 1st Class Post - you will get an option when you add the product to your basket.
Engine Management
 - Bosch EDC15
 - Bosch EDC15C7
 - Bosch EDC16/CF3 Multijet
 - Bosch EDC16/CF4 Multijet
 - Bosch EDC16/CF5 Multijet
 - Marelli 6JF Multijet
 - Marelli 6F3 Multijet
 - Marelli 8DF/CF5 Multijet
 - Bosch MSA 11
 - Lucas DPNC TD100
 - Lucas EPIC DCU3F
 - Bosch Monomotronic MA1.7.3
 - Bosch Motronic M3.7.1
 - Bosch Motronic M2.10.3
 - Bosch Motronic M2.10.4
 - Bosch Motronic M1.5.5
 - Bosch Motronic ME2.1
 - Bosch Motronic ME3.1
 - Bosch Motronic ME7.3.1
 - Bosch Motronic ME7.3H4
 - Bosch Motronic ME7.3H4M
 - Bosch Motronic MED7.11
 - Bosch Motronic Me7.6.3/CF4
 - Bosch Motronic Me7.9.10/CF5
 - Bosch Motronic MeD7.6.1/CF4
 - Bosch Motronic MeD17.3.1 CF5
 - Hitachi MPI
 - Magneti Marelli IAW 5NF
 - Magneti Marelli IAW 4AF/4EF/59F/5AF
 - Magneti Marelli IAW 49F
 - Magneti Marelli IAW 5SF3/CF4
 - Magneti Marelli IAW 5SF8/CF5
 - Magneti Marelli IAW 5SF9/CF5
 
Gearbox Management
 - Marelli SELESPEED (old Alfa 156 SELESPEED)
 - Marelli SELESPEED CFC208F
 - Marelli SELESPEED CFC209F
 - Marelli SELESPEED CFC218F
 - Marelli SELESPEED CFC228F
 - Marelli SELESPEED CFC300
 - Marelli SELESPEED CFC328
 - AISIN AF40-6
 - AISIN YLII 5
 - AISIN YLII 5
 - ZF 4HP20
 
ABS
 - Bosch ABS 5.7 VDC/ASR/TC
 - Bosch ABS 8 VDC/ASR
 - Lucas EBC 430 ABS
 - Bosch ABS Teves MK20/MK70
 - Bosch ABS 5.3 TC/ASR
 - TRW Lucas ABS/ESP
 
Electric Power Steering
 - TRW Electric Power Steering
 - Delphi Electric Power Steering
 - SAGEM Power Steering
 
Airbags
 - ALLIED MY97 Airbags
 - BREED MY97 Airbags
 - TRW MY97 Airbags
 - AUTOLIV MY99 Airbags
 - SIEMENS MY99 Airbags
 - TRW MY99 Airbags
 - TRW MY03 Airbags
 - TRW MY05 Airbags
 - AUTOLIV MY06 Airbags
 - SIEMENS MY06 Airbags
 - AUTOLIV MY07 Airbags
 - CONTINENTAL Airbags
 - TRW Airbags
 
Body/Dashboard/Misc.
 - Service Interval Reset
 - CAN Setup / PROXI Alignment Procedure
 - Remote control programming
 - Delphi/Marelli Body Computer
 - Marelli MF Body Computer
 - Marelli Body Computer
 - Delphi Body Computer
 - Siemens Body Computer
 - Visteon Instrument Panel
 - Marelli Instrument Panel
 - Nippon Instrument Panel
 - Siemens Instrument Panel
 - Siemens VDO Instrument Panel
 - Mannesman VDO Instrument Panel
 - Valeo parking control
 - Bosch parking control
 - BITRON Driver door, Passenger door and Boot
 - G.E. PROCOND Driver door, Passenger door and Boot
 - TRW Driver door and Boot
 - Bosch XENON headlights
 - Valeo XENON headlights
 - Litronic XENON headlights
 - Delphi Climate Control
 - Harrison Climate Control