03-23-2020, 04:13 PM
Hyundai
HCE
e-Catalogue 
Robex
[03.2017]
Spare parts catalog for for Hyundai ForkLifts, excavators, wheel loaders, skid steer loaders.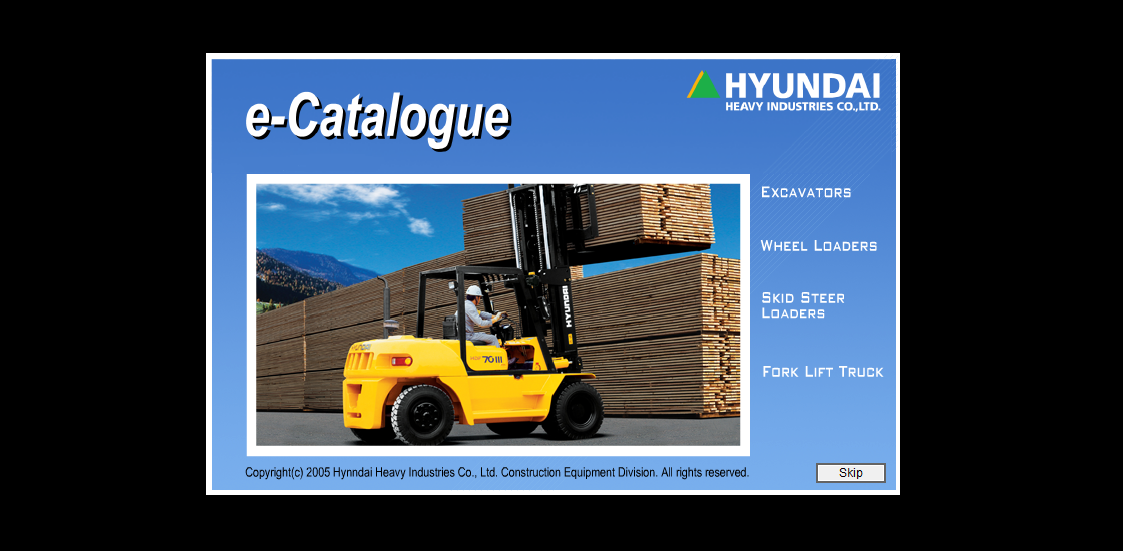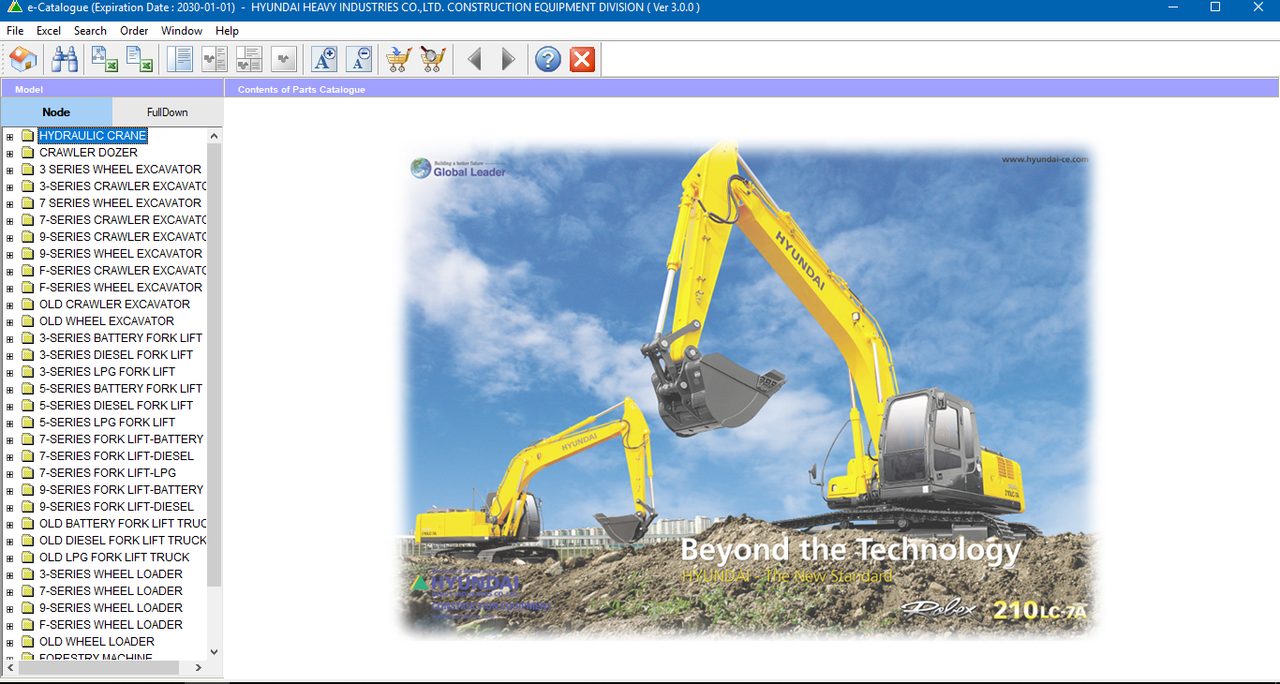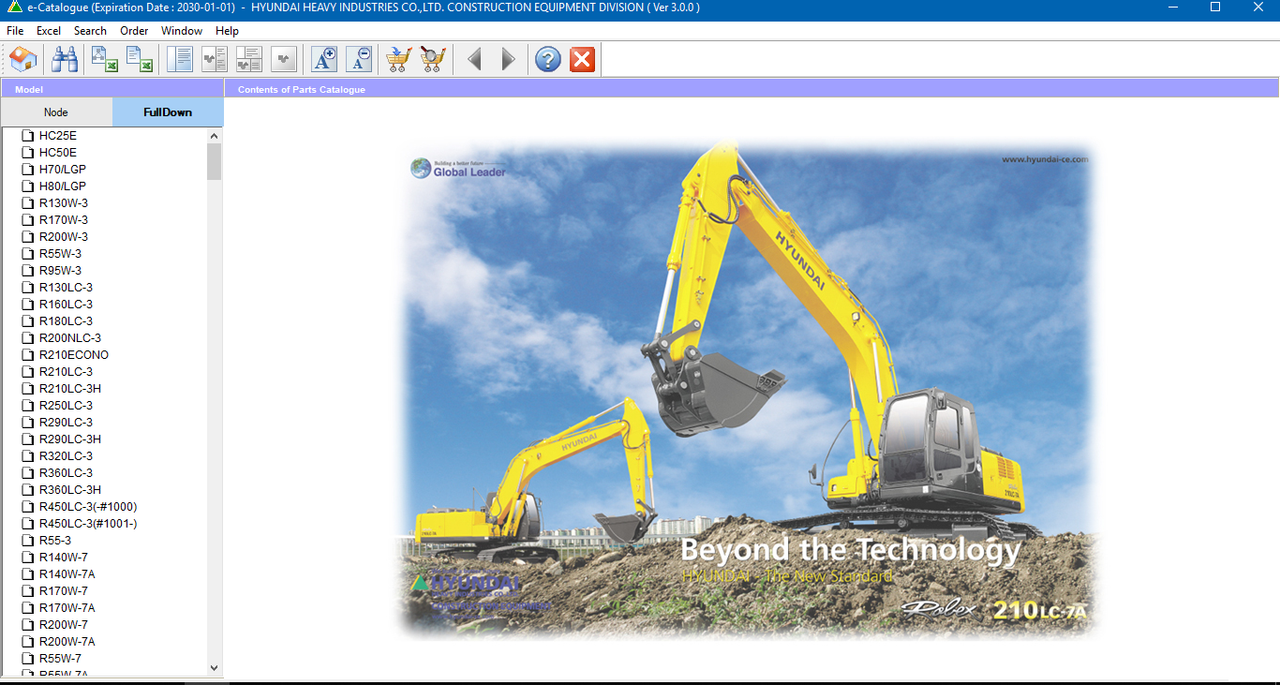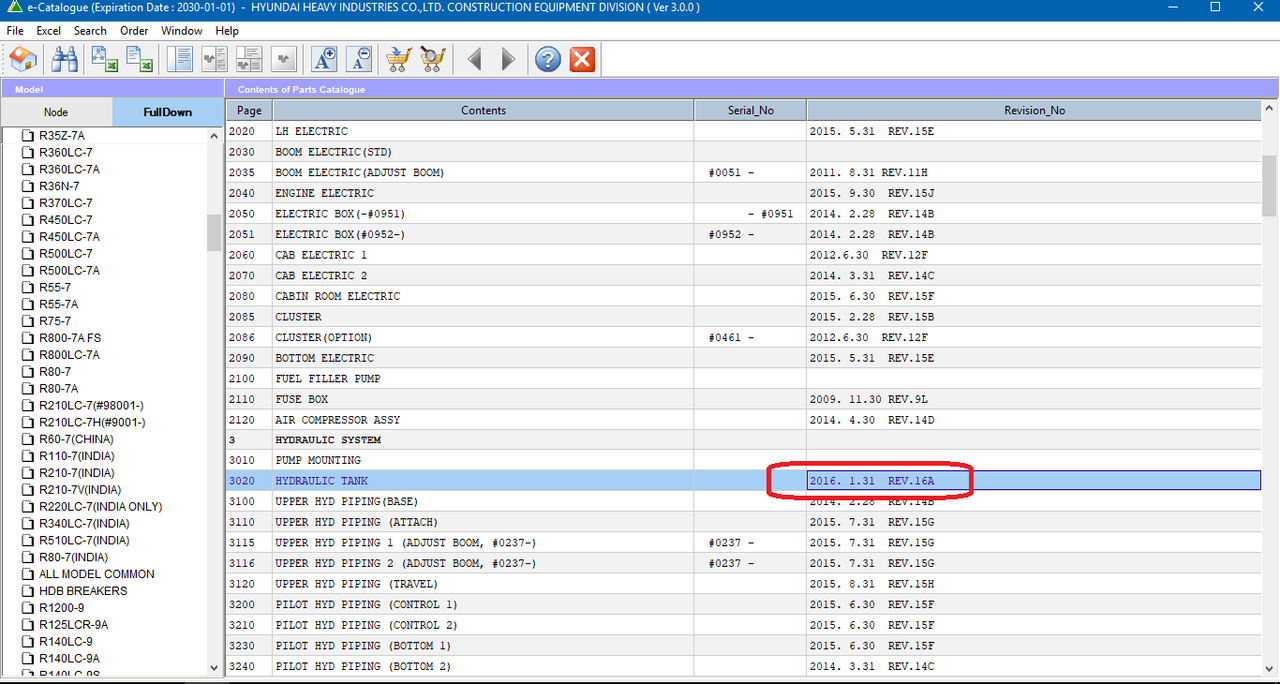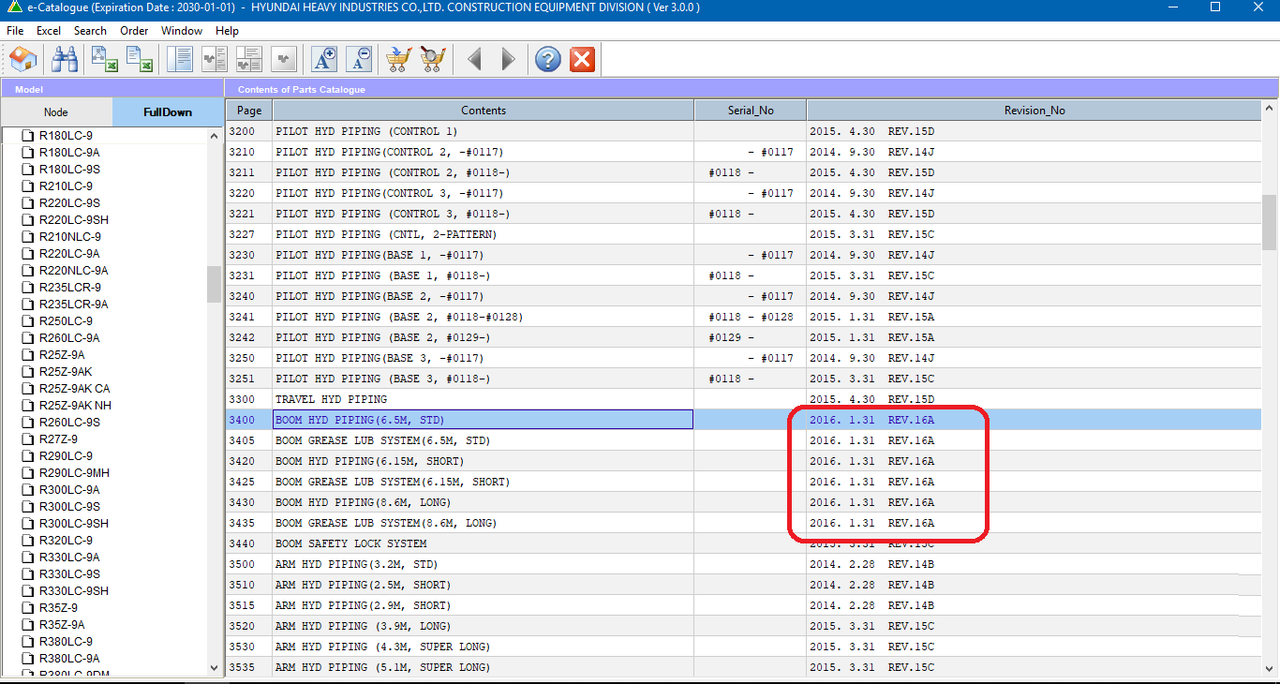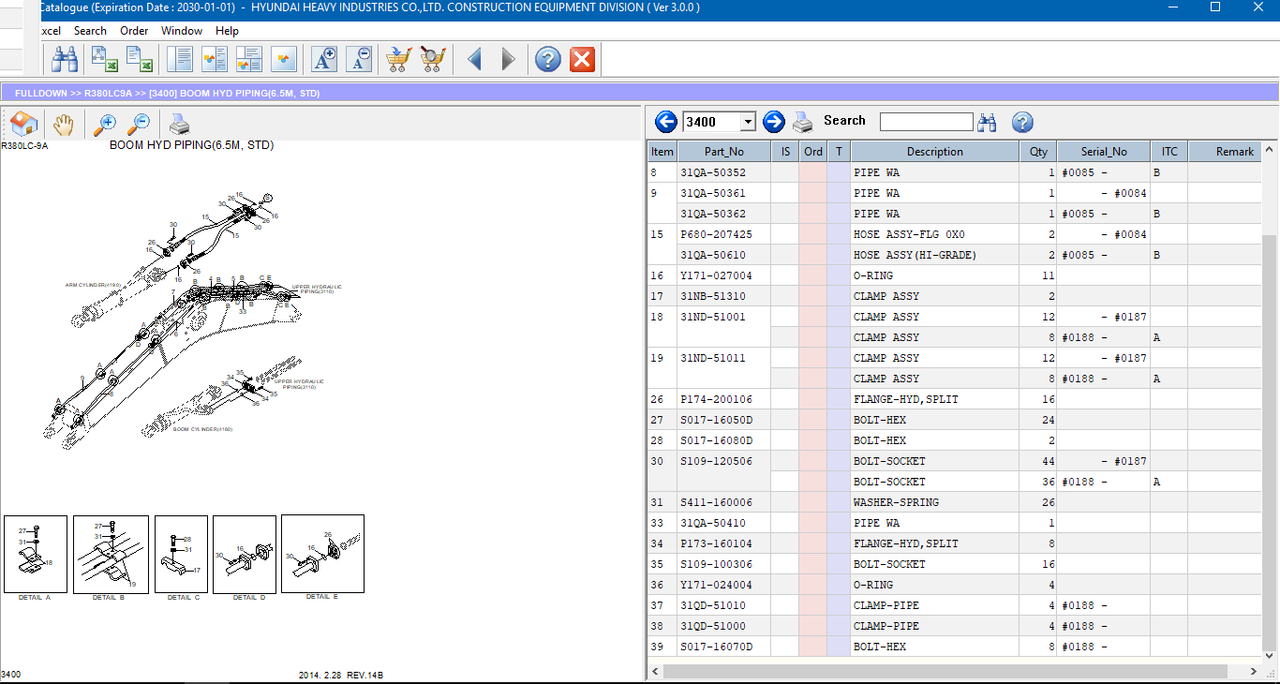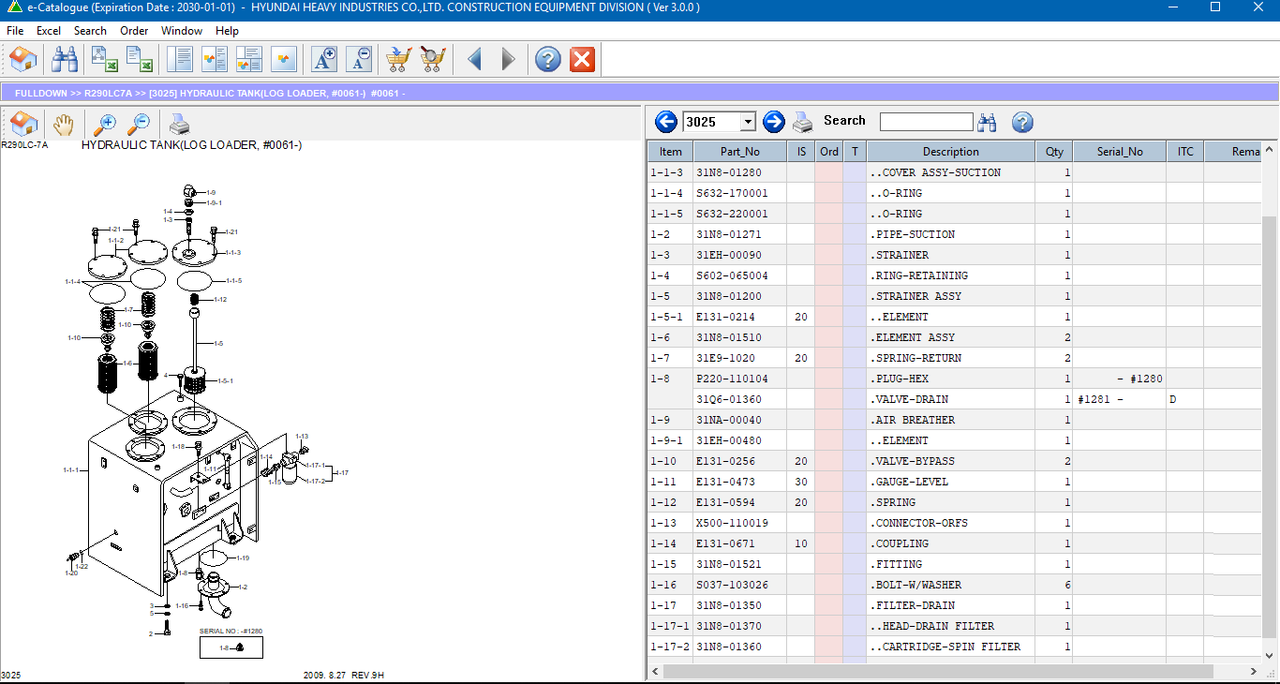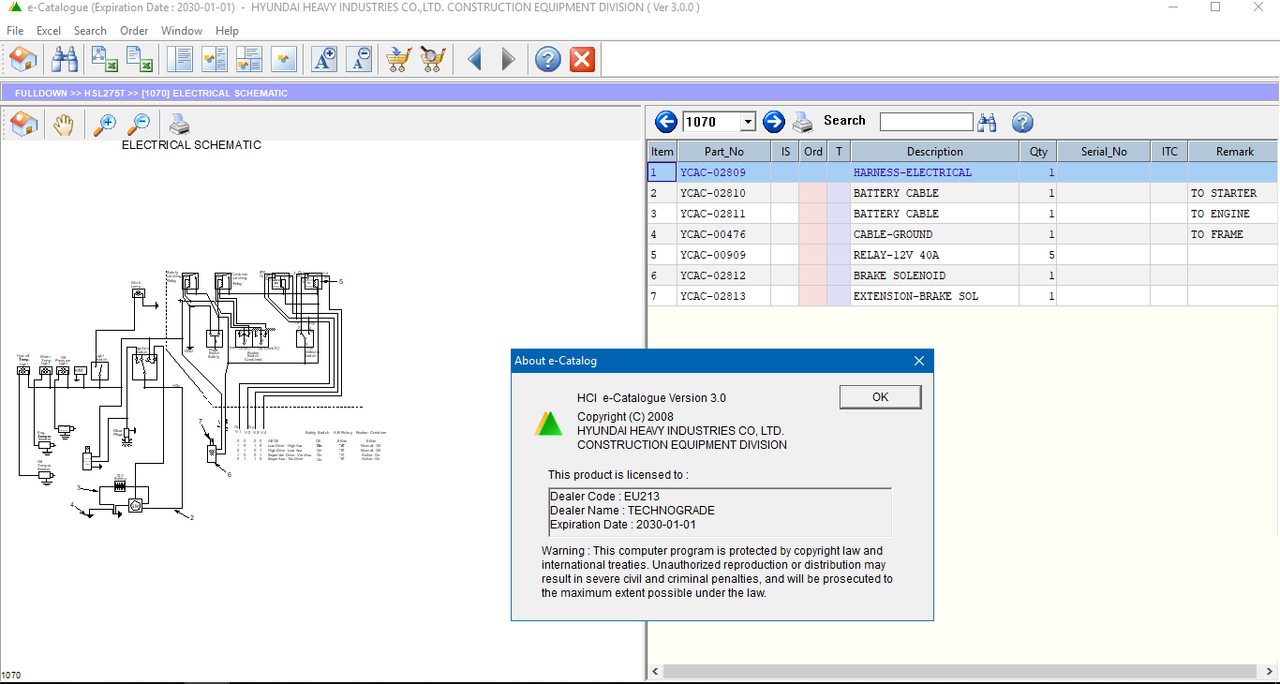 Region: All regions 
Type : Spare part catalog
Version: 30.0
Quantity of DVD: 1 DVD 
Language : Multilanguge 
OS: XP, Vista, Windows 7, WIN8,WIN10
Year: 2017
Date : 03/2017
Hyundai Heavy Industries Catalog 2017 (Hyundai Robex 2017) - factory spare parts catalog in digital format
Hyundai Heavy Industries e-Catalogue (Hyundai Robex EPC) is an electronic spare parts catalog, which represents the full information on spare parts and accessories for special equipment Hyundai.
Interface of program Hyundai Robex is very simple and convenient, interface language - English, all the details are presented in English.
Hyundai HCE 2015 is the parts catalog for Hyundai Construction Equipment and Forklifts. Hyundai HCE 2013 covers 7- and 9-series equipment models.
Hyundai HCE covers the following models:
7-SERIES FORK LIFT-LPG
7-SERIES CRAWLER EXCAVATOR
R55-7
R210/220LC-7H
R250LC-7
R320LC-7
R500LC-7
7 SERIES WHEEL EXCAVATOR
7-SERIES FORK LIFT-DIESEL
15D/18D/20DA-7E
20D/25D/30D/33D-7E
20/25/30/33DF-7
20/25/30/33DF-7T
35DF-7
35/40/45D-7E,50D-7AE
35/40/45DS/50DA-7E
50/60/70D-7E
50/60/70DF-7
50/60/70DS-7E
80D-7E
110/130/140/160D-7E
180D-7E
250D-7E
7-SERIES FORK LIFT-LPG
15/18/20G-7A
15G/18G/20G-7M
20G/25G/30G-7
15/18/20L-7A
15/18/20L-7M
25/30/33L-7A
25/30/33L-7M
35/40/45/50L-7 A
15LC/18LC/20LC-7A
15/18/20LC-7M
25LC/30LC-7A
25LC/30LC-7M
25/30/33G-7M
25/30GC-7M
25/30/33G-7 A
25/30GC-7A
7-SERIES FORK LIFT-BATTERY
10/1ЗВОР-7
15РА/40TA-7
10/13BR-7
14/15/18BR-7
20/25BR-7
14/16BRJ-7
20/25BRJ-7
15/18/20/23BRP-7
15/18/20ВТ-7
16/18/20В-7
22В/25В/30В/32В-7
35В/40В/45В/50В-7
20/25/30/32ВС-7
20ВН/25ВН/30ВН-7
22/25/30ВНА-7
7-SERIES SKID STEER LOADER
HSL650-7
HSL650-7A
HSL850-7
HSL850-7A
9-SERIES WHEEL EXCAVATOR 
9-SERIES CRAWLER EXCAVATOR 
9-SERIES WHEEL EXCAVATOR 
9-SERIES CRAWLER EXCAVATOR 
R16-9
R27Z-9
R35Z-9
R55-9
R60-9S
R60CR-9
R80CR-9
R140LC-9
R140LC-9S
R145CR-9
R160LC-9
R160LC-9S
R180LC-9
R180LC-9S
R210LC-9
R21ONLC-9
R220LC-9S
R220LC-9SH
R235LCR-9
R250LC-9
R260LC-9A
R260LC-9S
R290LC-9
R290LC-9MH
R300LC-9S
R300LC-9A
R300LC-9SH
R320LC-9
R330LC-9S
R330LC-9A
R330LC-9SH
R380LC-9
R380LC-9MH
R380LC-9A
R380LC-9SH
R430LC-9
R430LC-9SH
R480LC-9
R480LC-9MH
R480LC-9S
R480LC-9A
R520LC-9
R520LC-9S
R520LC-9A
R800LC-9
R800LC-9 FS
R1200-9
9-SERIES WHEEL EXCAVATOR 
R55W-9
R60W-9S
R140W-9
R140W-9S
R170W-9
R170W-9S
R210W-9
R210W-9S
9-SERIES WHEEL LOADER 
HL730-9
HL730-9S
HL740-9
HL740-9S
HL757-9
HL757-9S
HL760-9
HL760-9A
HL760-9S
HL770-9
HL770-9A
HL770-9S
HL780-9
HL780-9A
HL780-9S
HL730TM-9
HL740TM-9
HL757TM-9
SL730
SL733
SL735
SL760
SL763(~#0500)
SL763(#0501 ~)
SL765
9-SERIES FORK LIFT-BATTERY 
10/13/15BTR-9
15/18/20ВТ-9
16/18/20В-9
22/25/30/35ВН-9
22/25/30/32/35В-9
20/25/30/32В С-9
100D-7
10BOP-7
10BR
10BR-9
10BTR-9
110D-7A
110D-7E
110DE
14BR
14BRJ-7
14BRJ-9
15BR-9E
15BRP-7
15BRP-9
15BT
15BT-9
15D
15D-9
15D-9S
15G
15G-7A
15G-7M
15L
15L-7A
15L-7M
15LC
15LC-7A
15LC-7M
15P-7
15PA
16B
16B-9
180D-9
180DE
20BC-7
20BC-9
20BH-7
20BR
20BRJ-7
20BRJ-9
20D-7
20D-7E
20DF
20DT
20G
20L
20LC
22B-7
22B-9
22BH-9
22BHA-7
22D-9
22D-9S
22D-9T
250D-9
250DE
25BR-9
25G-7A
25G-7M
25GC-7A
25GC-7M
25GC-7S
25L-7A
25L-7M
25LC-7A
25LC-7M
25LC-7S
25LF
33HDLL
35B-7
35D-7
35D-9A
35D-9K
35D-9S
35DE
35DF
35DS-7
35DS-7E
35L
35L-7A
40B-9
42HDLL
50D-7A
50D-7K
50DE
50DEACE
50DF
50DS-7E
60L-7A
80D-7
80D-9
80DE
80DEACE
ALLMODEL
BREAKERS
DX20
H70
H80
HBF15-3
HBF15E
HBF15T
HBF15T-5
HBF20-2
HBF20-7
HBF20C-7
HBP15
HBR14-2
HBR14-7
HBR20-7
HC25E
HC50E
HDB-A
HDF15
HDF15-3
HDF15-5
HDF20-2
HDF20-5
HDF35-3
HDF35A
HDF35A-2
HDF50-3
HDF50-7
HDF50-7S
HDF50A
HDF80-3
HL17C
HL25C
HL35C
HL720-3
HL720-3C
HL730-7
HL730-7A
HL730-9
HL730-9A
HL730-9S
HL730-9SB
HL7303
HL7303C
HL730TM-9
HL730TM-9A
HL730TM3
HL730TM3C
HL730TM7
HL730TM7A
HL740-3
HL740-3ATM
HL740-7
HL740-7A
HL740-7S
HL740-9
HL740-9A
HL740-9B
HL740-9S
HL740-9SB
HL740TM-3
HL740TM-3A
HL740TM-7
HL740TM-7A
HL740TM-9
HL740TM-9A
HL750
HL750-3
HL750TM3
HL757-7
HL757-7A
HL757-7S
HL757-9
HL757-9A
HL757-9S
HL757-9SB
HL757-9SM
HL757-F
HL757TM-9
HL757TM-9A
HL757TM7
HL757TM7A
HL760
HL760-3
HL760-3ATM
HL760-7
HL760-7A
HL760-9
HL760-9A
HL760-9AW
HL760-9S
HL760-9SB
HL760-F
HL770
HL770-3
HL770-3ATM
HL770-7
HL770-7A
HL770-9
HL770-9A
HL770-9S
HL770-F
HL780-3
HL780-7A
HL780-9
HL780-9A
HL780-9S
HL780-F
HL7803A
HL850EX
HLF15-2
HLF15-5
HLF15C-3
HLF15C-5
HLF20-2
HLF20-5
HLF20C-2
HLF20C-5
HSL1200T
HSL1500T
HSL215T
HSL275T
HSL400T
HSL500T
HSL600
HSL610
HSL650-7
HSL650-7A
HSL680T
HSL800-7
HSL800T
HSL810
HSL850-7A
HSL960T
HX220L
HX260L
HX300L
HX330L
HX380L
HX480L
HX520L
R110-7
R110-7A
R1200-9
R120W
R125LCR-9A
R130LC
R130LC3
R130W
R130W3
R140LC-7
R140LC-7A
R140LC9
R140LC9A
R140LC9S
R140LC9V
R140W7
R140W7A
R140W9
R140W9A
R140W9S
R145CR9
R145CR9A
R15-7
R16-7
R16-9
R160LC3
R160LC7
R160LC7A
R160LC9
R160LC9A
R160LC9S
R160W9A
R170W3
R170W7
R170W7A
R170W9
R170W9S
R17Z-9A
R180LC3
R180LC7
R180LC7A
R180LC9
R180LC9A
R180LC9S
R180W9A
R180W9S
R200LC
R200NLC3
R200W2
R200W3
R200W7
R200W7A
R210ECONO
R210LC3
R210LC3H
R210LC3LL
R210LC7
R210LC7A
R210LC7H
R210LC9
R210LC9BC
R210LC9BH
R210NLC7
R210NLC7A
R210NLC9
R210W-9
R210W9A
R210W9AMH
R210W9MH
R210W9S
R215LC7
R22-7
R220LC9A
R220NLC9A
R235LCR9
R235LCR9A
R250LC3
R250LC7
R250LC7A
R250LC9
R250LC9A
R25Z-9A
R25Z-9AK
R260LC9S
R27Z-9
R28-7
R280LC
R290LC
R290LC3
R290LC3H
R290LC3LL
R290LC7
R290LC7A
R290LC7H
R290LC9
R290LC9MH
R300LC7
R300LC9A
R300LC9S
R300LC9SH
R305LC7
R320LC
R320LC3
R320LC7
R320LC7A
R320LC9
R330LC9A
R330LC9S
R330LC9SH
R35-7
R35-7Z
R35Z-7A
R35Z9
R35Z9A
R360LC3
R360LC3H
R360LC7
R360LC7A
R360LC9
R36N-7
R370LC7
R380LC9A
R380LC9DM
R380LC9MH
R380LC9SH
R390LC9
R420
R430LC9
R430LC9A
R430LC9SH
R450LC3
R450LC3A
R450LC7
R450LC7A
R480C9MH
R480LC9
R480LC9A
R480LC9S
R500LC7
R500LC7A
R500W
R520LC9
R520LC9A
R520LC9S
R55-3
R55-7
R55-7A
R55-9
R55-9A
R55-9S
R55W-3
R55W-9
R55W-9A
R55W-9S
R55W7
R55W7A
R60CR-9
R60CR-9A
R75-7
R80-7
R80-7A
R8007AFS
R800LC-9
R800LC7A
R800LC9FS
R80CR-9
R80CR-9A
R95W3
RB140LC9S
RB160LC9S
RB220LC9S
RB260LC9S
RC215C7
RC215C7H
RD110-7
RD140LC9
RD210-7
RD210-7V
RD220-7
RD220LC9
RD340LC-7
RD510LC-7
RD80-7
ROBEX9-S
SL730
SL733
SL733S
SL735
SL763
SL763G
SL763S
SL765
SL765S