11-26-2017, 12:37 PM
Renault
DDT2000
Diagnostic Tool
v3.0.0.3
+ DATABASE
[08.2017]
+ KEYGEN
Diagnostic software for Renault cars .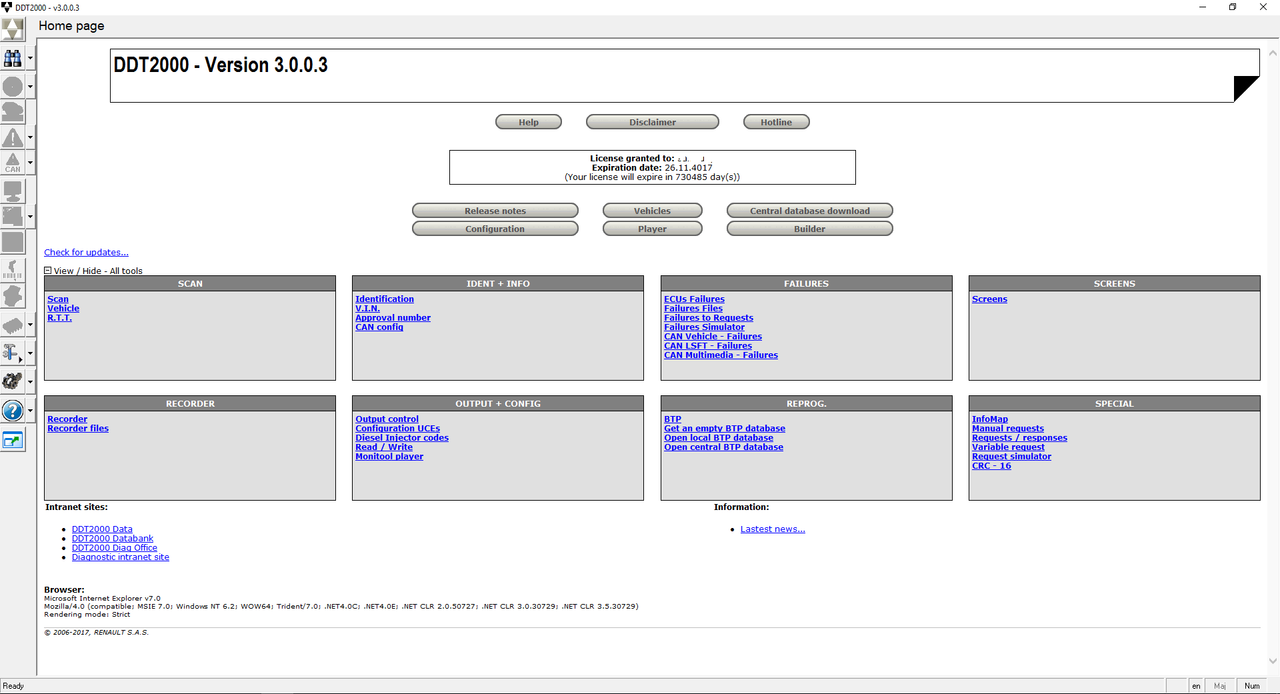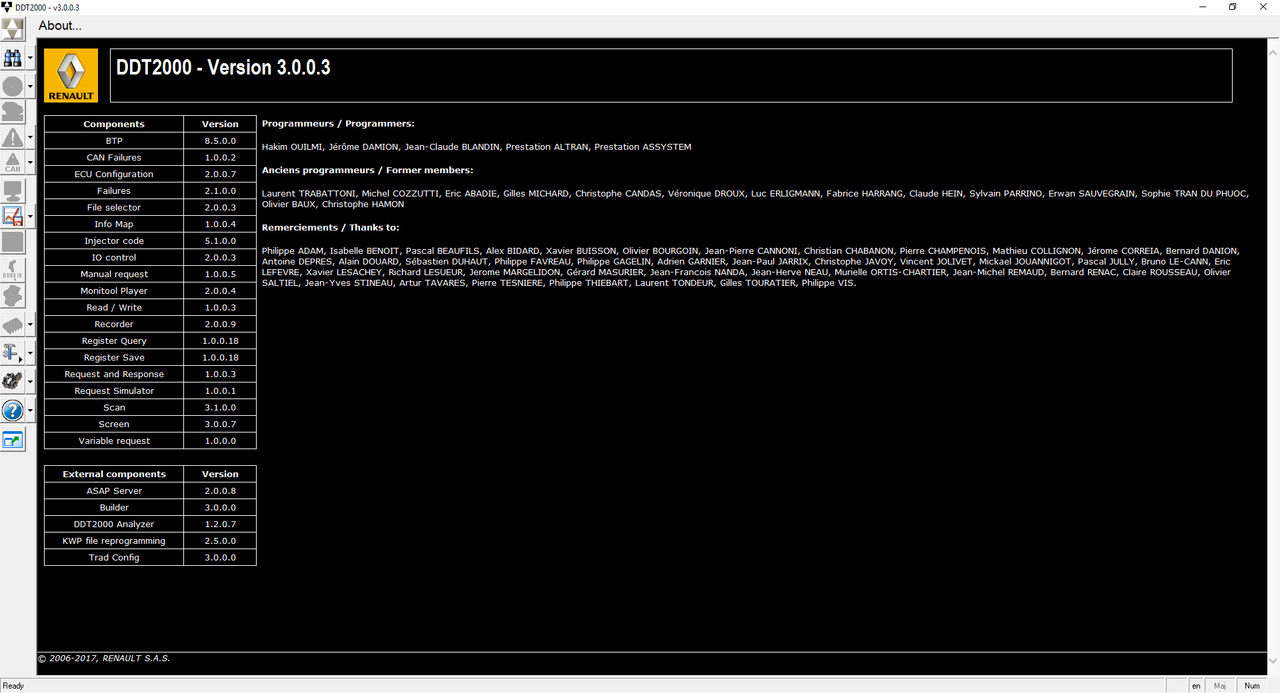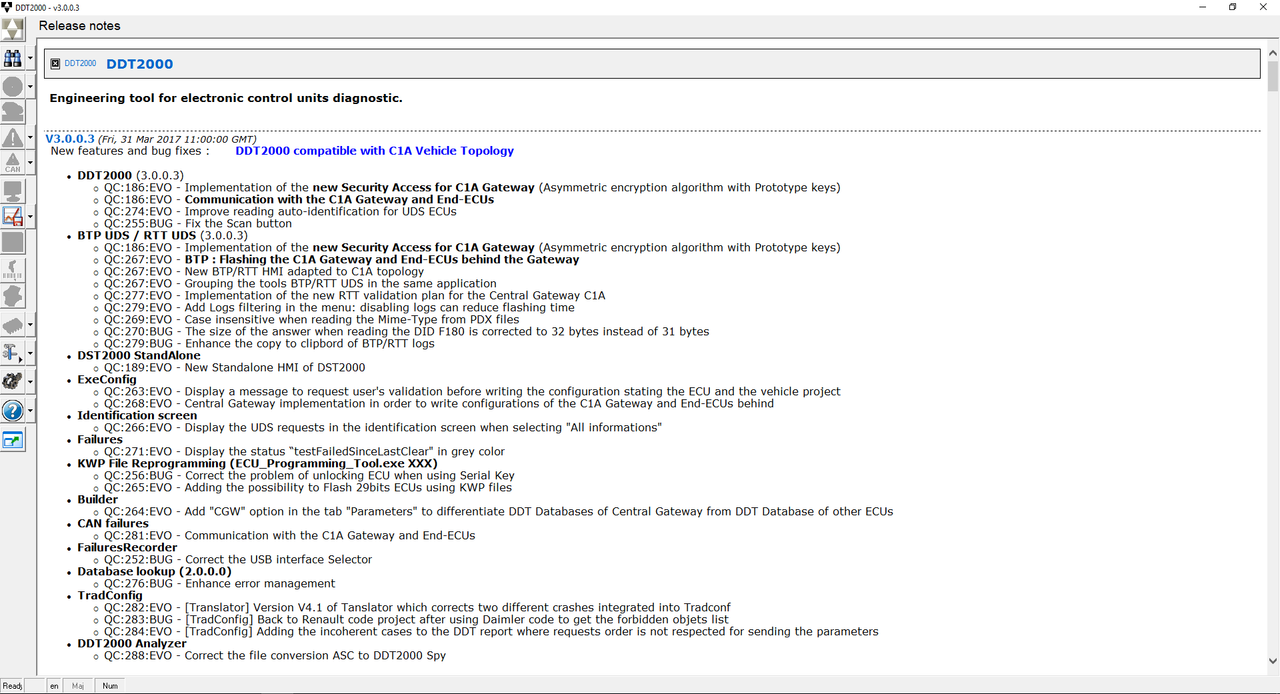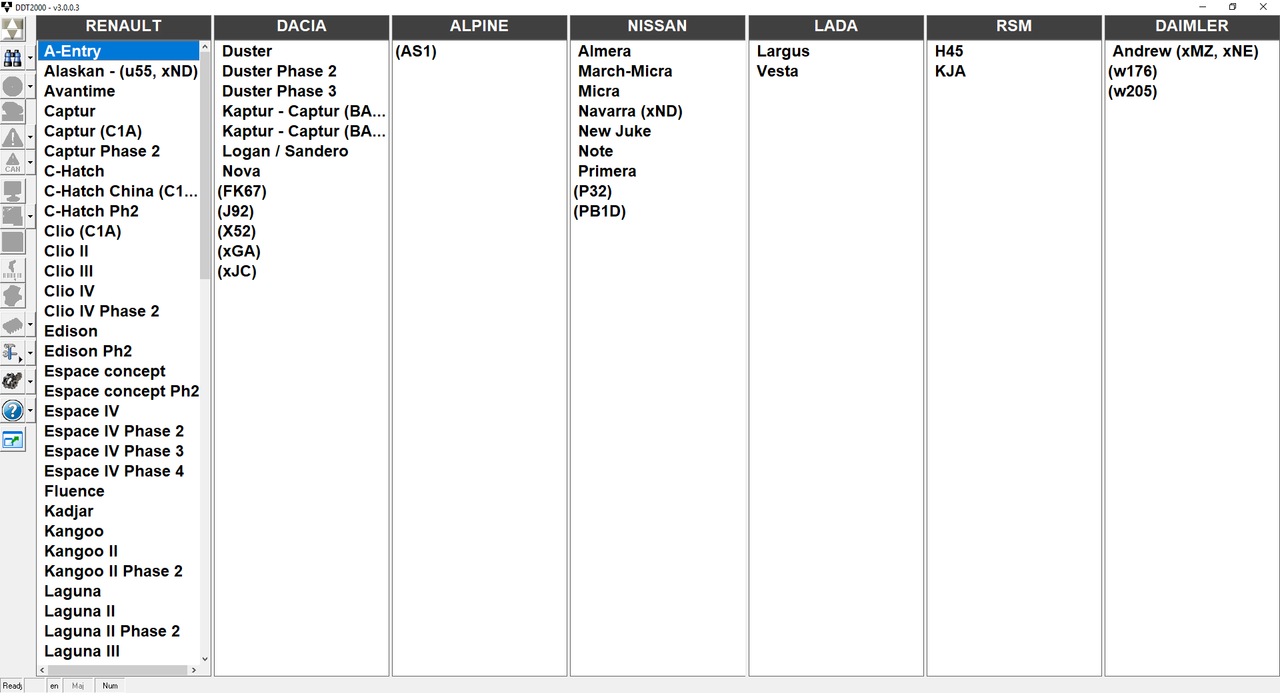 Region: All regions
Type: Diagnostic & Programmer Software 


Version: v3.0.0.3


Languages: English,Multi
OS: WinXP , WIN7, WIN8, WIN10
Year: 2017
Date of update: 08/2017
Renault DDT2000
supports CAN-BUS protocol, but with the special CAN diagnostic interface. In this package we are offering the software and simple K line interface (ISO9141). Below named interface has been tested and works with most LAGUNA II models. For other newer models are required CAN-BUS interface.
Supported models:
*RENAULT*
A-Entry
Alaskan - (u55, xND)
Avantime
Captur
Captur (C1A)
Captur Phase 2
C-Hatch
C-Hatch China (C1A)
C-Hatch Ph2
Clio (C1A)
Clio II
Clio III
Clio IV
Clio IV Phase 2
Edison
Edison Ph2
Espace concept
Espace concept Ph2
Espace IV
Espace IV Phase 2
Espace IV Phase 3
Espace IV Phase 4
Fluence
Kadjar
Kangoo
Kangoo II
Kangoo II Phase 2
Laguna
Laguna II
Laguna II Phase 2
Laguna III
Laguna III Phase 2
Laguna III Phase 3
Laguna III Tricorps
Mascott
Master II
Master II Phase 3
Master III
Master III Phase 2
Megane & Scenic
Megane II
Megane II hors ABS
Megane II only ABS
Megane II Phase 2
Megane III
Megane III Phase 2
Modus
Modus Phase2
New Kangoo
Safrane
Symbol / Thalia
Talisman
Thalisman Phase II
Trafic II
Trafic II Phase 2
Trafic II Phase 3
Trafic III
Twingo
Twingo II
Twingo II Phase2
Twizy
VelSatis
VelSatis Phase 2
Wind
XJK
xZG
xZJ
Zoe
Zoe (C1A-Neo)
(Captur_Chine)
(x38_Chine)
(X43)
(X89)
(x94)
(X96)
(xBB)
(xBC)
(xEF)
(xFA)
(xFF)
(xFG)
(xZH)

*DACIA*
Duster
Duster Phase 2
Duster Phase 3
Kaptur - Captur (BAR/IN/RU)
Kaptur - Captur (BAR/IN/RU) Ph2
Logan / Sandero
Nova
(FK67)
(J92)
(X52)
(xGA)
(xJC)

*ALPINE*
(AS1)

*NISSAN*
Almera
March-Micra
Micra
Navarra (xND)
New Juke
Note
Primera
(P32)
(PB1D)

*LADA*
Largus
Vesta

*RSM*
H45
KJA

*DAIMLER*
Andrew (xMZ, xNE)
(w176)
(w205)
DDT2000 is a web site dedicated to vehicles electric and electronic diagnostic, also called "DDT2000 software".
For using DDT2000 (browsing thru the pages and communicate with the vehicle) you need to have a PC with:
and and UP (IE 7 Working like a Charm!!!)
And MS Visual Basic 6.0 sp5
And XML 3.0
Needed Hardware To Use DDT2000 :
- PC pentium, 64Mo RAM,... (best with 128Mb or more)
- 800x600 minimum display (best with 1024x768)
- 256 colors (best with 65536 colors or more)
- available serial port for K&L vehicle interface 
- PC-vehicle interface
Release notes:
V3.0.0.3 (Fri, 31 Mar 2017 11:00:00 GMT)
New features and bug fixes : DDT2000 compatible with C1A Vehicle Topology

- DDT2000 (3.0.0.3)
QC:186:EVO - Implementation of the new Security Access for C1A Gateway (Asymmetric encryption algorithm with Prototype keys)
QC:186:EVO - Communication with the C1A Gateway and End-ECUs
QC:274:EVO - Improve reading auto-identification for UDS ECUs
QC:255:BUG - Fix the Scan button
- BTP UDS / RTT UDS (3.0.0.3)
QC:186:EVO - Implementation of the new Security Access for C1A Gateway (Asymmetric encryption algorithm with Prototype keys)
QC:267:EVO - BTP : Flashing the C1A Gateway and End-ECUs behind the Gateway
QC:267:EVO - New BTP/RTT HMI adapted to C1A topology
QC:267:EVO - Grouping the tools BTP/RTT UDS in the same application
QC:277:EVO - Implementation of the new RTT validation plan for the Central Gateway C1A
QC:279:EVO - Add Logs filtering in the menu: disabling logs can reduce flashing time
QC:269:EVO - Case insensitive when reading the Mime-Type from PDX files
QC:270:BUG - The size of the answer when reading the DID F180 is corrected to 32 bytes instead of 31 bytes
QC:279:BUG - Enhance the copy to clipbord of BTP/RTT logs
- DST2000 StandAlone
QC:189:EVO - New Standalone HMI of DST2000
- ExeConfig
QC:263:EVO - Display a message to request user's validation before writing the configuration stating the ECU and the vehicle project
QC:268:EVO - Central Gateway implementation in order to write configurations of the C1A Gateway and End-ECUs behind
- Identification screen
QC:266:EVO - Display the UDS requests in the identification screen when selecting "All informations"
- Failures
QC:271:EVO - Display the status "testFailedSinceLastClear" in grey color
- KWP File Reprogramming (ECU_Programming_Tool.exe XXX)
QC:256:BUG - Correct the problem of unlocking ECU when using Serial Key
QC:265:EVO - Adding the possibility to Flash 29bits ECUs using KWP files
- Builder
QC:264:EVO - Add "CGW" option in the tab "Parameters" to differentiate DDT Databases of Central Gateway from DDT Database of other ECUs
- CAN failures
QC:281:EVO - Communication with the C1A Gateway and End-ECUs
- FailuresRecorder
QC:252:BUG - Correct the USB interface Selector
- Database lookup (2.0.0.0)
QC:276:BUG - Enhance error management
- TradConfig
QC:282:EVO - [Translator] Version V4.1 of Tanslator which corrects two different crashes integrated into Tradconf
QC:283:BUG - [TradConfig] Back to Renault code project after using Daimler code to get the forbidden objets list
QC:284:EVO - [TradConfig] Adding the incoherent cases to the DDT report where requests order is not respected for sending the parameters
- DDT2000 Analyzer
QC:288:EVO - Correct the file conversion ASC to DDT2000 Spy